Before you freak out rest assured, eyebrow tattooing has come a long way from the thick, obvious block-shaped permanent eyebrow tattoos you might be visualising.
In fact, the new wave of brow tattooing, mostly referred to as Semi Permanent Make Up or Microblading , is so popular that leading technicians are booked out months in advance -and you can see why when you weigh up the benefits.
Although you still need your brows maintained (plucked or waxed), the overall effect is fuller, more youthful brows and a more polished look.
HYPER REALISTIC MICROBLADING:
Microblading is exclusively for eyebrows, this technique uses a hand tool to manually implant pigment under the skin, the results are fine natural hair stokes.
Here at Chapter XIII we have developed our own unique realistic style of Microblading, giving the ultimate in natural looking brows.
MACHINE WORKED BROWS
Machine worked brows are very similar to tattooing, we use an electric machine, similar to a tattoo machine & insert pigment under the skin. This gives a bolder, longer lasting, defined brow type.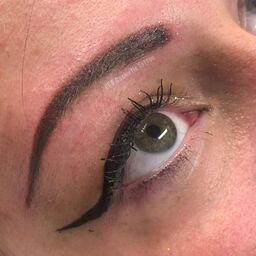 EYELINER
Tattooed eyeliner is nearly not as painfull as you think! Our Semi Permanent Make Up Artist is fully qualified at applying Aesthetic and is registered with Act Fact, you really can't feel anything.
Tattooing the eye line will honestly change your life, no more panda eyes.
Eyeliner will require a top up after the 1st initial treatment, then will last up to 1 year.
For further information and prices please contact the studio