Holllaaaaa.. How we all doing ?! Apologies for missing last weeks blog, but I was busy being awesome and then run out of time .. But, I'm about to make up for it with some incredible images, there's no way I could miss talking about this week! Unless you've been living under a rock or been on a 5 day crack bender you may of noticed we had a very special guest spot come visit us and WOW what a busy week, proberbly the best at ChapterXIII to date.
It's been an absolute pleasure having Romanian born Liviu Chircha with us all week and it's been truly wonderful to see my studio functioning at its absolutly best, with top quality tattoos leaving on happy clients .. It makes the Chapter XIII story thus far all worth it.
Watching my resident artist Zannie & Liviu work so well side by side, sharing their collective 20+ years of experience to produce beautiful designs and compliment each other's work was amazing, True professionals, representing their industry in a positive light .. I can't thank you enough for the effort you both put in last week. Zannie was no slouch last week either, going toe to toe with Liviu she produced some magnificent work as always!
Liviu, it's been an absolute pleasure having you with us and I wish you well in your up coming guest spots and I cannot wait to have you back with us again in the future.
Lastly I have to give photographer extraordinaire Andrew Roach a massive thank you. He took time out of his busy schedule & popped by the studio to take some awesome shots .. Go check out his work some more here >> http://www.roachphotography.co.uk cheers buddy :)
I'll leave you with the best tattoo of the week by Liviu, My skull & roses hand Job .. Obviously !!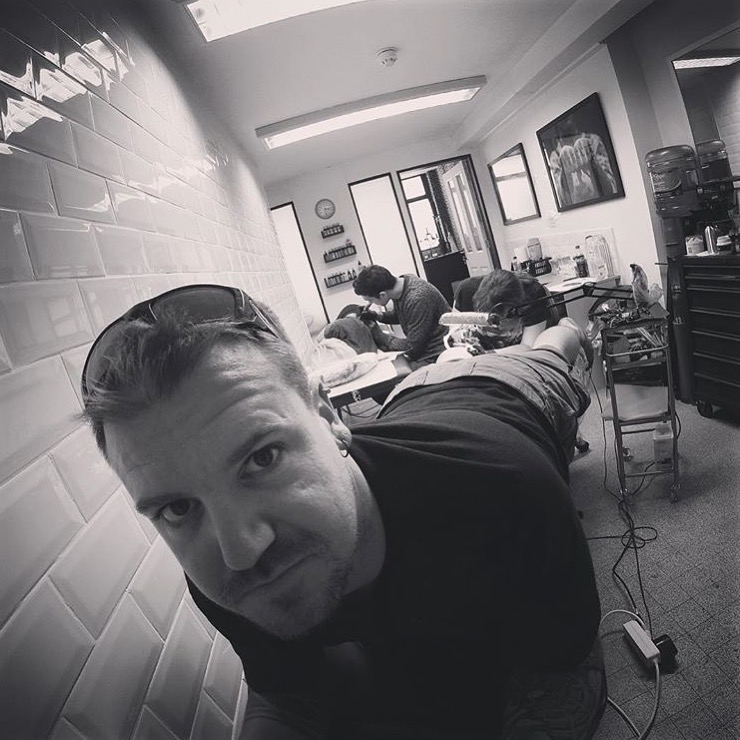 (No credit what so ever given to @Apergee for the photos I blatantly stole from his instaham)
Chow for now my little space monkeys....
LBC13 xx